Luxury Residential and Large-Scale Commercial Projects:
First Impressions and Lasting Durability Matter
AllStar Renovations is the Professional Wallcovering and Digital Mural Installation Firm the Pros Turn To for Tens of Thousands of Walls Installed to Date – we are a fully-insured company
Celebrating our fourteenth anniversary in August 2019, AllStar Renovations is proud to work on behalf of some of Chicago's leading interior design firms. We specialize in custom renovations for their upmarket residential and commercial clients. Our services are by professional referral and "To-the-Trade" exclusively. AllStar is also proud to repeatedly serve an ever-growing list of national large-format commercial printing companies, national retail roll-out clients, dozens of Chicagoland up-market to luxury residential general contractors, commercial painting firms, as well as custom home builders. AllStar Renovations provides our discerning clientele with the 'Best-In-Class' digital mural, wallcoverings, wallpaper and luxury material installations across a wholly unique spectrum of exacting installation capabilities. Exotic wallcovering and wallpaper finishes, quality craftsmanship and meticulous attention to detail create artistic impressions for our interior designers' residential projects.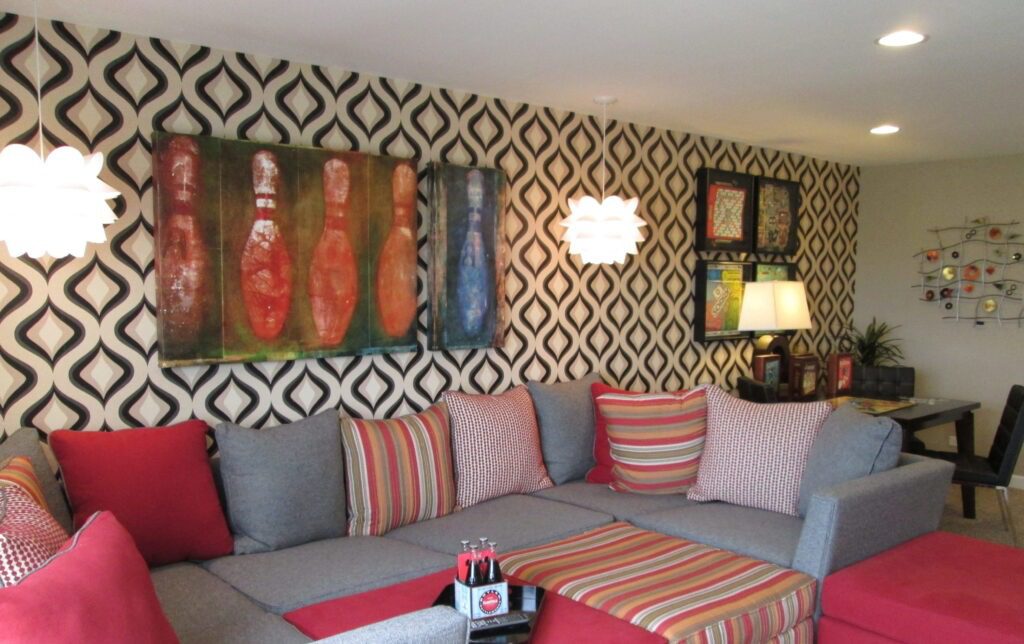 As Seen on Houzz Video: July 2016
AllStar Renovations' Chicago Lincrusta Installation
In 2015, with our firm's extensive knowledge of historical wallcovering materials; AllStar Renovations provided both the Lincrusta product consultations to and Lincrusta Edwardian Dadopanel installations for our client; a local residential painting contractor, engaged by the homeowner.
Given the unique temperament of Lincrusta materials it is essential to understand proper cutting and handling of the material, effects of temperature, special tools, pre-installation and pre-painting techniques.
For this project, we worked with the client to determine the aspect of the pattern they wanted to emphasize. Then, templates were were created by AllStar so that the pattern would appear not to 'shift' as it was installed going up the staircase. Its also important to properly prepare the panels prior to painting.
While peeks of the beautiful installation are seen throughout the video; the foyer and staircase installations of this time-honored and heavily embossed English wallcovering material are featured at the end of the homeowner's renovation ideabook video on Houzz by following this link:
As experienced Lincrusta installers we welcome the opportunity to share with you photos of this installation as it was taking place along with other Lincrusta installations we've performed.
This material is usually popular in residential renovation and restoration projects and commercial environments (historically installed in restaurants/bars, offices and retail establishments).
With painting and faux-finishing techniques, this material has nearly endless possibilities for statement-making luxurious installations. AllStar Renovations looks forward to discussing how we can provide you with all the services related to Lincrusta installations and the related painting and faux-finishes.
Since 2005, AllStar Renovations has been recrafting the physical appearance of hotels, casinos, hospitality, retailers, senior communities, institutional and other commercial facilities. We also provide digital mural and digital graphic installations for commercial and residential environments.
Our experience as the prime contractor for all the finishing trades in numerous full hospitality PIP renovations, AllStar Renovations has unparalleled expertise in plaster repair, drywall installation/taping/finish/ repair and achieving "Level 5 Finishes" efficiently and effectively for the best-possible substrates prior to wallcoverings and mural installations.
With Thousands of Successful Projects: Our Experience and Customer Satisfaction Is Second-To-None.
Beyond the Ordinary
High-end, custom and designer papers & materials
Grand format commercial digital murals
Prolonged life of installed wallcoverings
Minimal project site downtime
Highest-end return on investment
Worry-free Engagements
Professionally trained and certified in-house project management
Extensive pre-planning with clients
Accurate timelines and financial quotes
Professionally supervised crews
A bonded and fully-insured company
AllStar Renovations' residential commercial divisions serve the following Illinois regions:
Chicago Downtown/Magnificent Mile/West Loop/Gold Coast
North Shore
Northern and North-West Suburbs
South-Western Suburbs
Western Suburbs
South-Western Suburbs
Select Central Illinois Communities Include:
Bloomington
Champaign
 Decatur
Mahomet
Savoy
Urbana